TESTIMONIALS
I began my aviation career as an instructor at Southern Interior Flight Centre. Having completed most of my training at other flight schools on the coast I can honestly say that the Commercial Aviation Diploma is top of the line training that exceeds the standard. The industry experienced Flight School Director provides a real world learning atmosphere that prepares students for today's industry.

After instructing at SIFC, I was hired by Carson Air to fly the Metroliner, and now I am a First Officer on the Embraer 190 for Canada's flagship carrier, Air Canada. SIFC and Carson Air provided me the experience and industry contacts that allowed me to go from graduation to a major airline in only 3 and a half years.
I have seen first hand how quickly program graduates have gained entry level jobs and progressed up the ranks of the aviation industry. The network of SIFC graduates that are currently working in all corners of the industry provide pivotal contacts that help graduates secure their first flying job. I would recommend the Commercial Aviation Diploma program at SIFC to anyone who is looking to fast track their career to the airlines.
- Taylor Shaw, First Officer, Air Canada
"After completing my Commercial Aviation Diploma at the Okanagan College School of Business, I was employed by Southern Interior Flight Center as a flight instructor. One year later I found employment at Carson Air flying freight for FedEx Canada on a turbo prop. Having worked for Carson Air for two years, I was promoted to Captain, Training Captain and Base Manager. Now I'm working for Canada's largest leading Airline, Air Canada. Air Canada has always been my ultimate goal airline to end up with and I find myself very fortunate to be here in such a short time.

I believe that this progression would not be possible without the support of staff members
| | |
| --- | --- |
| at Southern Interior Flight Centre and Carson Air. Okanagan College helped with my career progression as the college offers a comprehensive and well structured program that enables a solid foundation. Okanagan College has given me the fundamental tools needed to become successful in aviation. Unlike other college locations, the Okanagan Valley offers a unique flight training | |
environment unrivalled in Canada. With the help of friendly and knowledgeable staff members, and the many supporting representatives from various airlines, I have received the confidence needed to break out into the workforce. I feel that the Flight School Director takes serious interest in the success of his students. When students show hard work and dedication, further progression within the flight school becomes possible. I owe a lot of my success to the Okanagan College Aviation Diploma Program!"
- Maarten Joosten, First Officer, Air Canada
| | |
| --- | --- |
| I am now a First Officer on the Airbus A320 with Air Canada, based in Vancouver. Prior to joining Air Canada, I flew as a First Officer on the ATR 42 with West Wind Aviation in Saskatoon, and as a Captain on the Jetstream 32 fleet with Northwestern Air Lease in Fort Smith, NT. I began my flight training at SIFC in July 2005. After completing my commercial licence and multi-IFR rating, I obtained an instructor rating, and was subsequently hired as a flight instructor at the school. I have no doubt that the quality training and supportive learning environment allowed me toprogress with confidence in the aviation industry. The many contacts I made during my time at SIFC have been a tremendous asset to my career thus far. | |
The Flight School Director, Marc Vanderaegen, takes a personal interest in the professional development of his students and employees: the education you receive at this school will set you on a path for success in aviation.

- Steve Bechtel, First Officer, Air Canada
Two years from PPL Lesson 1 "Attitudes and Movements" to the right seat of a turbine aircraft: that is how I can best describe my SIFC experience. From your private pilot licence through to commercial, multi-engine and instrument ratings, SIFC, with their knowledgeable instructors and advanced "glass cockpit" training aircraft, prepares you for a real world aviation career and gives you the skills necessary to be successful in the highly competitive aviation industry. The training environment of the Okanagan Valley allows students to experience diverse terrain and weather with a higher number of good weather days throughout the year than many
other parts of Canada. Further, the Kelowna airport, which is Canada's 10th busiest, provides students with the experience of operating in a control zone of moderate traffic density. If English is not your first language and you are considering becoming one of SIFC's many successful international students, SIFC provides a comprehensive international student program involving aviation language training, ground school, and Transport Canada exam preparation.

It is oft said that the first few years of one's aviation career are tough, but the rewards that come later make it worthwhile. With some hard work, motivation, and good study skills, your success at SIFC is assured.
- Paul Christian, First Officer, Pilatus PC-12
| | |
| --- | --- |
| | After I completed my Commercial Aviation Diploma at the Okanagan School of Business I had the opportunity to work for Southern Interior Flight Centre as a flight instructor. I decided to attend Okanagan College because of the opportunities it offered post graduation. I had noticed a trend that seemingly all the top graduates from the Aviation Diploma Program |
had been offered instructing jobs which eventually led into the charter division of Carson Air Ltd; or potentially many other entry level jobs that had been taken by Okanagan College Almumni and needed replacement by new graduates. Having the opportunity for job placement and multiple connections, post graduation is one of the most important parts of anyone's aviation career. In June 2007 I was hired as a first officer for Carson Air Ltd, and became a Captain by April 2008. In April 2009, my education and experience in the airline industry presented me with an opportunity to work for Air Canada Jazz as a first officer.

I chose the Okanagan College Aviation Diploma Program because it provided me with a chance to get my foot in the door and build strong relationships within the airline industry. I feel that Okanagan School of Business gave me the confidence and determination to make it in a competitive industry. The Aviation Diploma Program gave me the skills and tools needed to succeed throughout my evolving career.

- Dean Ticehurst, First Officer, Air Canada Jazz
| | |
| --- | --- |
| | I completed my private and commercial training at SIFC. After finishing the Commercial Aviation Diploma I was able to easily transition to the BBA Program at Okanagan College to earn my Degree. During this time I had to opportunity to compete in Business Competitions and get involved with various other events. I then returned to SIFC to become a flight instructor which quickly led to a position on Carson Air's Metroliners. Flying cargo on the Metros was a fast way to build hours and gain valuable multi-turbine PIC time. |
During my time at Carson Air I obtained the necessary experience to take me to the airlines while working with a great group of people.
- Jeremy Durrer, YVR CRJ First Officer, Jazz
Not every problem is in the book. Thats why SIFC provides the real world preparation needed for the turbulent aviation industry. Whether you're training to become a commercial pilot or just for recreation, flying with SIFC in the beautiful Okanagan is a great step in the right direction.

When I joined the commercial aviation program in 2009, I never would have expected to be where I am today, flying charter flights in the Philippines.
SIFC played a huge role in helping me achieve that dream. The opportunities for SIFC graduates are endless for anyone willing to pursue them.

Cheers and safe flying!


- Dave Evans, First Officer - Dornier 228, Island Aviation, Philippines
| | |
| --- | --- |
| | I began my flight training at SIFC at the age of 18. After obtaining my Private Pilot's Licence, I enrolled in the Commercial Aviation Diploma program. The knowledgeable staff ensured that by the time I took my tests I was more than prepared. Training in the Okanagan provides both beautiful scenery and the challenge of flying in mountainous terrain. After you fly here you can fly anywhere. Upon graduation, I was employed as an instructor. And now at the age of 22 I am already a First Officer on the Super King Air 200, flying Medivacs for Alberta Central Airways. I owe all my success so far in aviation to SIFC. Throughout my training, the flight school director was always there offering advice, shaping me into the pilot that I am today. |
In aviation, there is nothing more valuable than personal networking. Through his decades of experience in the aviation industry, Marc Vanderaegen not only provides knowledgeable advice to young pilots, but also valuable contacts to help them find employment in the aviation industry. The quality of training, along with the staff's commitment to seeing their graduates excel is why I suggest SIFC to anyone interested in pursuing a career in aviation.

- Andrew Rice, First Officer, Super King Air 200, Alberta Central Airways
I began my flying career with SIFC in the accelerated private pilot summer camp. From there I transitioned into the Commercial Aviation Diploma Program offered by SIFC and Okanagan College. This program offers all the essential groundwork to move forward in the aviation world as a corporate or airline pilot. Kelowna is the perfect training environment to learn how to fly for both beginners and more experienced pilots. It is located very close to training areas to minimize costs and has the perfect balance of big and small aircraft that utilize the airspace. The staff at SIFC are very knowledgeable and keen while the maintenance department is kept to a very high standard.

After graduating from the Commercial Aviation Diploma program I bridged into the Okanagan College's Bachelor of Business Administration program and started working as a flight
Instructor at SIFC. From there I was hired with Carson Air to fly the Metroliner and accumulated valuable turboprop and IFR experience throughout BC, Alberta and Saskatchewan. My next position was a Beech 1900 captain with Central Mountain Air which prepared me perfectly for my current position at Air Canada on the Boeing 767.

I would recommend SIFC to anyone looking to simply take flying lessons or those who are looking for a career as a pilot.

- Jon Marcellin, Boeing 767 RP, Air Canada
| | |
| --- | --- |
| | Southern Interior provided me with the skills and training to get me from Student Pilot on a C172 to a Commercial Pilot on a Super King Air 200 in just two and a half years! My willingness to learn was superseded only by my instructor's willingness to teach. I started the accelerated Summer Camp in June 2010 which allowed me to get my Private Pilot Licence in just two and a half months. I then entered the Commercial Aviation Diploma program with my Private Pilot Licence and a lot more to learn. With junior instructor's who had just completed the program and more senior instructor's with a wealth of 'real-world' |
experience, our class was provided with the
perfect mix of instruction to not only get us through, but make us excel.
I was fortunate enough to be hired on as a Flight Instructor at the school as the second year of the CAD program was coming to an end. Under the direction of the Flight School Director, I was able to pass off to my students, what my instructors had taught me. After less than a year instructing, an opportunity to fly a King Air providing Medevac service arose and here I am today. I would not be in the position I am if it wasn't for the direction and tutelage I received while at SIFC.
Good luck and fly safe!
- Toby Baker, First Officer, King Air 200, Alberta Central Airways
| | |
| --- | --- |
| "Looking back on my training at Southern Interior Flight Center is a place I would return in a heart beat. I remember starting off with cadets going for my first flight ever in a private airplane; it was amazing. The inspiring pilot let me take the controls my first time being up in the cockpit of an airplane. Right from that moment I knew this was for me! As I grew old enough I returned to Southern Interior to challenge myself in a difficult and rewarding accomplishment. I proceeded to undergo my commercial training which was a | |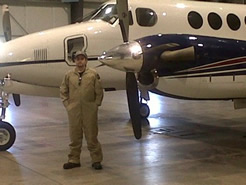 milestone in my life! Sounds like quite the success story, but really I have to take my hat off to the flight school. To myself I believe SIFC has outstanding staff that will do what ever it takes to help anyone learn and grow into this small family called Aviation. I can't stress enough how much this school has done for me when I was struggling through my own training. It was as if the instructors took you under their own wings and treated you as part of a big family. Now a

graduate of the Commercial Aviation Diploma, I look back and remember all the great times I had, wishing I could repay SIFC for what they have done for me.I have been out working for about 4 years now and have already made a name for my former flight school. The quality training helped me through the bush environment, making sound and cost effective decisions which led me to a Chief Pilot position. Even after a few years of flying low level bush and survey single pilot, I have recently taken a First Officer position for the Air Ambulance Program in Alberta. This is much different working with another pilot on board but the straight forward training from Marc Vanderegean and his staff bring you up to speed on how to work effectively in a "team" environment. If you're looking to learn and work hard, Southern Interior Flight Centre will help you rise to the industry standard in many different fields of aviation.

I can say that if you're looking into a career in aviation or just recreationally, make a point to drop in at SIFC. Fly Safe"

- Adam Buray, Adam Buray, First Officer; Super King Air 200
| | |
| --- | --- |
| | My experience at Southern Interior began in 2006 when, over the course of the summer, l obtained my private pilot licence. Through this positive experience I not only knew l wanted to persue a career in aviation but complete all my training at SIFC. I enrolled in the highly reputable Commercial Aviation Business Diploma program offered at Southern Interior which is completed in cooperation with Okanagan College. It was during this time I discovered why Southern Interior has such strong recognition within the flying |
community. Instructors are highly knowledgeable and skilled, which made for a smooth transition from a school environment to a working environment.
Upon completing the program, I was given the opportunity to become a flight instructor. It was during my time as an instructor l was able to start building my experience as a commercial pilot. This helped me land a job flying a King Air for a Medevac company located in Peace River, Alberta.
Recently l received a call from a fellow classmate, who luck have it, helped me obtain a job flying a DC-3T. That just goes to show you that contacts you will make throughout your aviation career will help you advance down the road.
All in all looking back on my what l have accomplished in my flying career, l cannot imagine myself to be where l am today if it was not for all the instructors and fellow classmates at Southern Interior.

- Best of Luck in your Career! Danny Holsten
| | |
| --- | --- |
| | There is an old saying in the aviation industry that it's not what you know but whom you know. In some cases it is very true. At Southern Interior Flight Centre, you don't just get excellent training; you also get a team of well-respected instructors who work within the aviation industry. Over the many years SIFC has been able to build a solid reputation that attracts some of the youngest and brightest instructors as well as seasoned industry experts. After graduating with a commercial aviation diploma in 2009 I knew I didn't want to jump into the industry through the instructor route. I decided to earn my stripes by going up north to Yellowknife, NT and working my way into a plane. With the guidance of the instructors at Southern Interior, they showed me that there are many ways to break into this sometimes difficult industry. With the skills I learned |
at the flight school as well through Okanagan College I was able to join Air Tindi as a flight coordinator. I have no doubt that the reason I have a job within the aviation industry today is because of the expertise of the team at SIFC and the help they were willing to provide me. I developed a relationship with all my instructors at SIFC that I know will help me throughout my career. I can't thank them enough for all the help and training I've already received and I know I will continue to receive.

- James Burke, Commercial Aviation Diploma Graduate, Air Tindi
| | |
| --- | --- |
| I began my aviation career like many people, looking for answers to questions I didn't even know to ask. The Staff at Southern Interior not only helped me ask the questions but gave me the answers and provided me with the building blocks of a successful aviation career. The people and colleagues I got to know during my years at Southern Interior enrolled in the Aviation Diploma program have become not only a resource to help further my aviation career but some of my closest friends. The staff provided a professional and challenging learning environment which taught the skills necessary to ensure a long and successful aviation career. Thanks, SIFC! | |
- Joel Rodda, Swearingen Metro Pilot
| | |
| --- | --- |
| I | "After completing the Commercial Aviation Program through Southern Interior Flight Centre I immediately landed my first job aerial mapping/photography in a Cessna 206 out of Pitt Meadows. Training in Kelowna's mountainous terrain and variable weather conditions allowed me to gain experience that would have been hard to find elsewhere. Kelowna is a great place for the IFR training as it has every kind of an approach including an ILS. SIFC allowed me to make many contacts |
which I believe will help me move up within the aviation industry. We also had the opportunity to train with experienced pilots such as Neal Titanich from Buffalo Airways, Rob Rantucci from Air Canada, and many more. Overall, SIFC has a great professional atmosohere and I would highly recommend the program to anyone interested in aviation."

- Ross Baadsvik, Aerial Mapping/Photography, Pitt Meadows and Across Canada
| | |
| --- | --- |
| Thanks to the helpful staff and support of Southern Interior Flight Centre I was able to accomplish my dream of one day becoming a pilot. When you have a family and run 3 businesses I found that I rarely had any spare time but thanks to Southern Interior programs options and staff for the support and dedication I was able to accomplish my dream. Thank You | |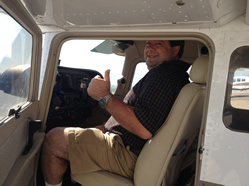 - Ariel Tyk - www.gogobox.ca Gogobox
Moving the earth in the right direction .
Reusable plastic moving boxes
"The training I received at SIFC prepared me with the knowledge and skills I needed to find employment in the Aviation industry. I graduated from the Commercial Aviation Diploma program in 2006 at the top of my class and was employed at SIFC as a Flight Instructor. I soon found employment with Alberta Central Airways flying medevac and charter flights on King Airs, where I upgraded quickly to Captain. The CAD program taught me what I needed to know to make it through the selection process at Air Canada Jazz, where I currently fly a Dash 8. I highly recommend training at SIFC to get a solid start on a professional career in aviation."
- Cameron Hanson, Pilot, Air Canada Jazz
| | |
| --- | --- |
| "Bottom line, if you are looking for a great learning experience without breaking the bank, SIFC is the place to do it. With an experienced staff, a standardized fleet, and one of the best locations for flight training, they have it all. They even prepare you for your first job in the airlines, and they do it exceedingly well. Not only was I well prepared for my interview, once I got the job, I was easily able to apply the lessons learned at SIFC onto my current job. My personal thanks to | |
everyone at SIFC for a phenomenal job well done!"

- Brandon Simunac, Flight Dispatcher, Central Mountain Air




"In High School I went on a job shadow at Southern Interior Flight Centre as part of the Career and Personal Planning program. I spent the afternoon touring the facility and was able to go on a Discovery Flight with one of the instructor pilots. At the end of the day I knew I wanted to become a Commercial Pilot and I knew this was the place to do it.
The training I received over the next 2 years while I was enrolled in the Commercial Aviation Diploma Program was taught by a knowledgeable staff of instructor pilots and industry professionals. This proved to be absolutely instrumental in my development as Commercial Pilot and I would not be where I am today without their help.
I highly recommend Southern Interior Flight Centre to anyone who is even remotely interested in obtaining a Private Pilot License or Commercial Pilot License."

- Brad Henderson, Alberta Health Services Medevac Pilot, First Officer - Super King Air 200

"During highschool, I heard about a flight school where I could obtain my private pilot's license. Situated in the heart of the Okanagan, training at SIFC was certainly a memorable experience and one that I will never forget. As a part-time student, they provided me with flexible flying hours and convenient plane bookings that can be done online. Many instructors there taught me not only flying skills, but professionalism and most importantly, work merit. Many of these instructors I personally know have later worked for major airlines due to their proficiency in flying. I thoroughly enjoyed my fundamental training in aviation at SIFC, which is critical to any other licencing I wish to pursue in the future. The work merit I have developed here has taught me not only how to become a good pilot, but is a skill I can apply to all aspects of my life."

- Hon Yan Ng

"I can look back to a very interesting three months in Kelowna. I have really enjoyed my stay at SIFC. You have a great bunch of people which made my stay very amusing. Woody did a great job! It was fun flying with him (even in heavy turbulence…)."

- Markus Willisch, Private Pilot, Switzerland

"All instructors at SIFC are knowledgable, friendly and helpful. The Flight School Director was resourceful for finding financial assistance. Good weather and well maintained aircraft provide a great experience overall."

- Geza Kende, Private Pilot, Commercial Student

"One of the many things I like about SIFC was the welcoming atmosphere from all the instructors. I believe that it helped me work towards my goal. After completing my instructor rating I got a job in Grande Prairie, Alberta"

- Ryan Croteau, Instructor, Adventure Aviation Inc.

"Besides very knowledgeable staff with real world experience, S.I.F.C provides another great training environment with its location. With good year round weather, mountain flying experience, lack of congestion from other training schools you are able to focus primarily on training. The airport is an added benefit with good tower staff, a large runway and enough commercial traffic to get a feel of what larger airports are like."

- Charles Lamb, Commercial Aviation Diploma / Instructor Graduate